Welcome to EZU Signs
Engraving for You!
Technology is wonderful but...
Recently my granddaughter purchased a new cell phone. She was unable to transfer her stored numbers from the old phone as it was non-functional (lost or dropped or something). A situation developed where she needed to contact a family friend whose number she had stored in the old phone. She attempted to contact people who might know the phone number she needed to no avail. She asked me if I could think of someone else she could call to get the needed number. Fortunately, the friend whose number she needed is also a senior citizen (like me) who had an old fashion phone – the ones with a chord attached. You guessed it. There was also a listing in that book we use to boost up little kids who have graduated from hi-chairs and I had not yet recycled my copy. I instructed her in the use of the PHONE BOOK and she was able to make the call!
Current News
A New Era
The shows at Harrisburg were my last appearance "on the road". I'm now concentrating my efforts on the web site. I'm pleased that many customers I've dealt with at dog shows the past 32 years have followed me to the site. I'm also excited that many new customers have found me via the internet. So I'm not retiring just beginning a NEW ERA. I'm looking forward to the challenge of supplying engraved signs and tags to past customers and finding new ones.
I must say, however, I won't miss some things that came with doing 80+ shows a year. Like the mud and being towed out of a show site, high winds causing tents to go down and shows to be canceled, having the LED screen on the computer run slow because it didn't like 30 degree temperature, changing a tire on my cube van on the Capitol Beltway during rush hour, listening to the PA announcer call (for the 4th time) for a vehicle to be moved "immediately or it will be towed – the tow truck is on the way", watching flood waters rising in the parking lot and seeing the wheel chocks float away as I pull my trailer to higher ground.

I will miss the comradery of my fellow dog show vendors. I expect to continue to share in the excitement of achieving a new title when I get the order for a crate sign and a new puppy with the order for a pet tag.
Crate Signs, Pet ID's, Judge's Pins, Pet Memorials, etc.
EZU Signs has been serving the pet and show dog industries since 1980. Our products are available for near instant gratification via our website or by order via phone or e-mail. In the past we attended nearly 90 dog shows each year primarily in the Eastern United States, but now are focusing exclusively on serving our customer better through our website.
"Dewey, I received my crate and collar tags today. They are perfect, as expected. The two-sided collar tags, which are the small cat-size, have all the information needed to facilitate a fast return of my dogs should they ever become lost. Ordering from you through your website was as easy and fast as ordering at a dogshow. Thank you for your advice and fast turn around." Amy ( Sumners0307@comcast.net )
---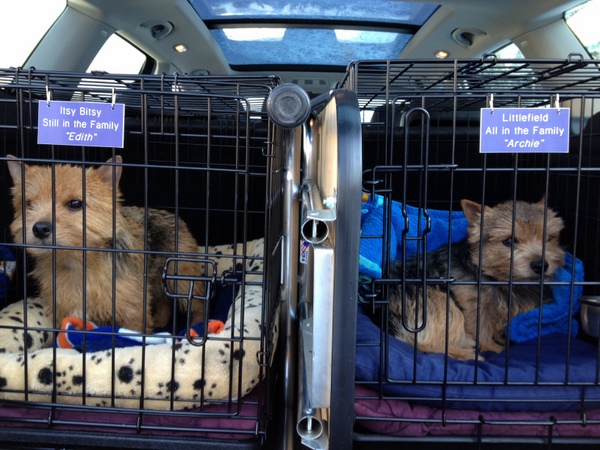 "I received the replacement signs and they are perfect. Photo above. Thanks! I will surely order from you again in the future."
---
| | |
| --- | --- |
| "Got my crate sign today. It's perfect and came really fast! That's for another awesome plaque, it won't be our last." | "I received the "Good Times Ahead" and "Better Times Ahead" ornamental plates today. They are very nice! Attached is a photo of a clock I just completed, bearing one of the plates." |
---
"Just wanted to say thank you for such quick production and shipping! I bought signs from you 10 or so years ago which still look brand new, and found your site when looking for current show locations. Thanks again!"
---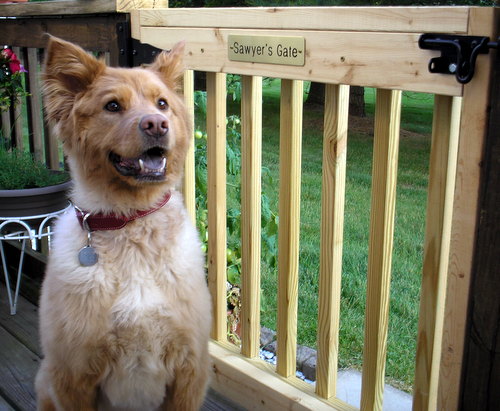 My husband & I built a gate on my daughter's deck so her dog, "Sawyer" could sit outside with them without being tied up. Since it was "Sawyer's Gate" I wanted to attach a sign indicating that. Searching on-lin I was fortunate to come across your site and basically, "took a shot". The sign is perfect and the turn around time was amazing. I will definitely keep your info for futre use and recommend to everyone. Thanks again!
---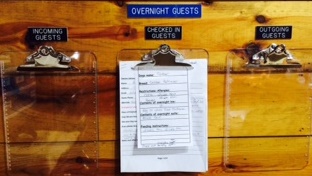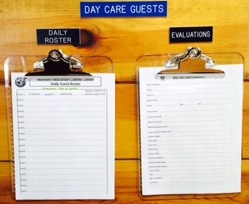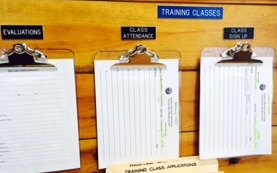 Dewey! You make our business look so good! Thank you so much for the quick order and detailed work!
Nicole, Northern Wisconsin Canine Center Eagle River, Wisconsin Dog Training-Dog Day Care Dog Overnight Care (www.nwcaninecenter.com)
Our Featured Products
The judge's pins are solid brass. As the information is engraved into the brass, it won't wear off. I offer 3 types of attachment -pin, clutch (think tie tack) and at an additional charge, magnet. The magnet backs have become more popular as the strength of the magnets has improved. It also seems that the small size is more popular than in the past. Anecdotally, some clubs have ordered pins as judge's gifts. The list provided to me often includes a title - Mr., Mrs., Ms., Dr etc. However my experience has been that 90% ot the time a pin is ordered by an individual, no such title is requested.
Crate signs serve multiple purposes: Identifying the dog for kennel help; associating the owner and/or handler with the dog, advertising the kennel name, providing ownership and contact information, acknowledging blood lines, and of course acknowledging accomplishments (bragging?).
Crate Signs can be used to identify crates, x-pens, runs, rooms, etc. and are available in sizes from 1.25" x 3.5" to 4" x 6" .
Crate signs are also great to use with color coding for dogs that can play or stay together. So, use crate signs with the same colors for dogs that can be put together, so it's very clear to the help!
I choose to call the flat rivet-on style IDs "collar tags" or "collar plates" to differentiate them from the hanging type. They come with rivets for mounting. A hammer is needed to set the rivet. For do-it-your-selfers, the toughest part usually is putting a hole in the leather or nylon. Some customers send me the collar so I can mount the tag. Others have me send the tag to the leather maker for them to mount the tag. Once mounted there is nothing to jingle or catch on something.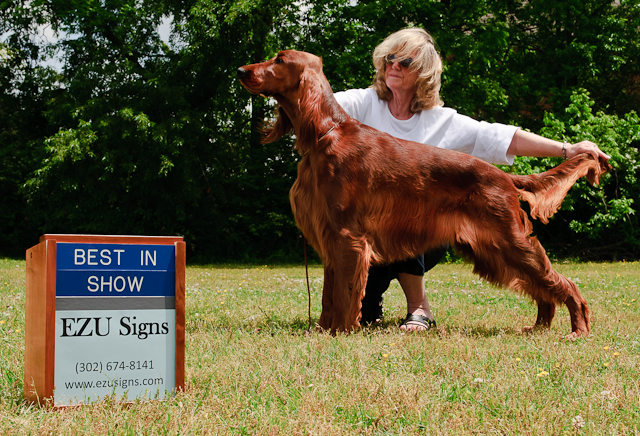 2" x 10" x 1/8" Photography Signs. Engraving available on both sides. Call for color choices. Set includes 20 2" x 10" Signs:
1st Side / 2nd Side
(akc logo) / (akc logo) SPECIALTY
AMERICAN BRED / BRED BY EXHIBITOR
OPEN / NOVICE
BEST PUPPY / AWARD OF MERIT
WINNERS / RESERVE WINNERS
BEST IN / MAJOR
GROUP / SHOW
SWEEPSTAKES / FUTURITY
FIRST / PLACING
JUNIOR / SENIOR
FIRST / SECOND
THIRD / FOURTH
BEST OF BREED / BEST OF VARIETY
BEST OF OPPOSITE / INTERMEDIATE
BEST OF WINNERS / PUPPY NEW CHAMPION / JUNIOR SHOWMANSHIP NATIONAL SPECIALTY / (blank) 6 - 9 MONTHS / 9 - 12 MONTHS 12 - 15 MONTHS / 15 - 18 MONTHS 12 - 18 MONTHS / VETERAN Substitutions allowed (please call with desired changes)
Custom Logo Engraving
Custom Logo Engraving - We can add your Kennel's, Handler's or Company logo to your crate signs, collar tags, or any of our products. Learn more about this service and how it adds a unique identity to your engravings!
Personalized Engraving
HOBBYISTS & REMEMBERANCES - Memorial Plates, information signs for displays, hand made items, instrument and gun cases, picture frames, memorial plantings.
RECOGNITION - Hand made items, plaques, photography signs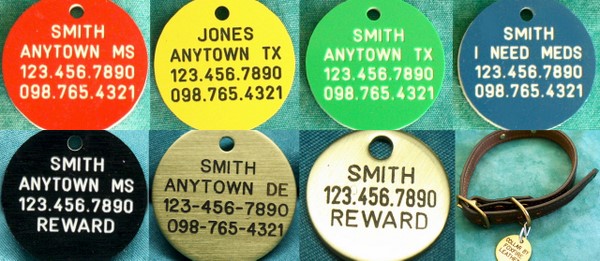 IDENTIFICATION - This would include stencils, ID tags, leash tags, stall plates, tack ID, picture frames, trophy ID.
Our Complete List of Products (if you know what you want!)
Show Dog Products: Crate Signs, Pet Tags, Pet Food Dish Labels, Pet Memorial Plaques, Pet Related Items
For Your Cat: Brass Pet Tag, Food Dish Label, Memorial Plaque
For Your Horse: Halter and Saddle Plates, Brass Signs for Horse Tack
Ornamental Plates: Ornamental plates for trophies and plaques
Dog Show Judge's Accessories: Judge's Pins, Luggage Tags
Photographer's Corner: Photography Sign, Show Photographer's Starter Kit
Hobbysts: Classic Car / Truck / Tractor Plates, License Plate Frames, Vanity Plates
Our Colors
Show Dog Products: Crate Signs, Pet Tags, Pet Food Dish Labels, Pet Memorial Plaques, Pet Related Items. Click here to see the full selection of colors for plastic signs.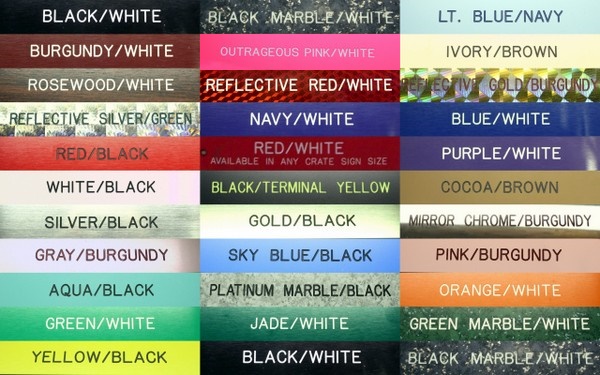 Check our out latest color: Outrageous Pink / White

Online Orders
You will receive a confirmation email once you have completed your order in about 5 - 15 minutes.
If you do not receive this confirmation, we did not receive your order, so please call our office during business hours, thank you.

Engraving for You!
Add EZU Signs to your Favorites